Cooeee! From Spotswood to Fishermans Bend and back
INVITATION FROM PORT MELBOURNE HISTORICAL AND PRESERVATION SOCIETY
Explore both sides of the Yarra near its mouth. Enjoy a punt trip across Melbourne's busiest sea lanes!
In two hours, discover more of Melbourne's industrial history: from watery graves to Wirraways, from stone quarries to sand mines.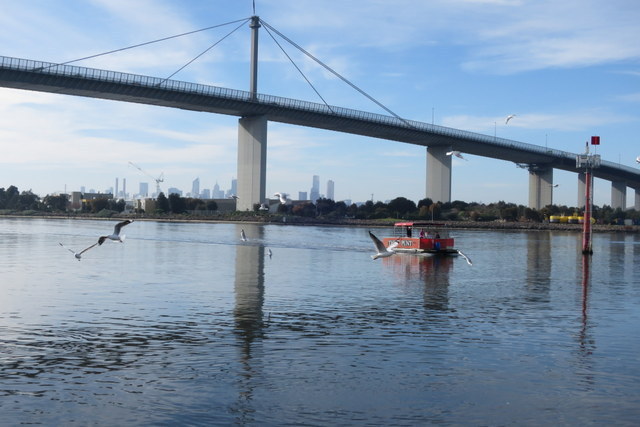 Sand, sugar and sewers – beer bottles and basalt are just some of the shared aspects of the history of both sides of the lower Yarra River. The river entrance, such a significant place for Melbourne, will be experienced from the water. The Westgate Bridge will be viewed from below rather than above. The focus of this walking tour will be on the experience of the place itself – its sights and sounds, and imagined smells. The tour will return to the same place, the Spottiswoode Hotel.

THINGS YOU NEED TO KNOW:

The Punt fare is $5 each way ($10 return) but tour is FREE!

Limited toilet facilities.

————————————-

ATTENDANCE LIMIT:

Less than 50 so register now.

———————————————

WHEN: 10am to 12pm, 14 May, 2017

———————————————

SETTING OUT FROM SPOTTISWOODE HOTEL :

68 Hudsons Road, Spotswood, Victoria
———————————————————–
TO PREBOOK:
Contact Us
Visit
Ercildoune
66 Napier St Footscray 3011
Enter via Hyde Street door, opposite Footscray Police Station
Postal Address
Secretary
66 Napier St Footscray
Australia 3011
Email
Email: foothist@bigpond.com
Phone
03 9689 3820

Opening Hours
Every Tuesday 10am - 2pm
First Saturday of the month 10am - 3pm
Footscray Historical Society entrance is on the west side of Ercildoune i.e. Hyde Street opposite Police Station
Fees for research
Members of Footscray Historical Society Inc. are not charged to access the archives. A fee of $11 per visit applies to non-members accessing the archives unassisted. Enlist the support of volunteer staff for $22 per visit or email response. Supplementary fees vary according to how many photocopies or digital files are ordered.